Texas Children's Pediatrics Longhorn Pediatrics
Image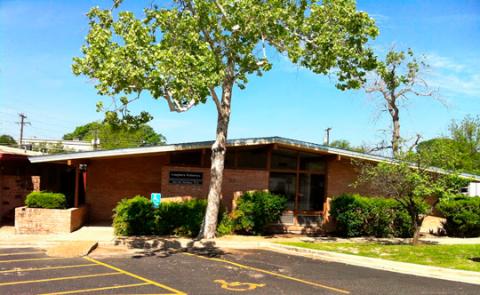 About Us
Longhorn Pediatrics was founded by Dr. Rodolfo Barrera and Dr. Larry Lewellyn in 2006. Dr. McMains began working at Longhorn in 2009 and purchased the practice in 2013. Our goal is to provide quality medical care with a family atmosphere for children from birth to 18 years and care for them as if they were our own. Creating an environment that encourages your child to feel comfortable during what can be a stressful time is important to our office. We aim to support you as parents and enable you to nurture a healthy child because you have your child's best interest.
Services
Longhorn Pediatrics offers a full array of services to help your child maintain good health. A few of our services include:
Newborn care
Sick visits
Well child visits/ Physicals
Pre-Partum appointments
Clinical triage / Referrals
After hours
5 reasons why Dr McMains should be your child's doctor
Dr. McMains respects you as a parent
When you bring your child to our office, you can expect to be respected as the first and foremost authority in your child's life. Dr. McMains is a trained medical professional, but you are still the parent.


Dr. McMains practice is inclusive
Our client base is very diverse and we like it this way. We welcome families from all over Austin on a daily basis and they all feel comfortable when they're here. Everyone here is treated with respect and are given the attention they deserve, especially in times of sickness, when the last thing you need added to your life is more stress.


Our practice accepts most forms of insurance
When Dr. McMains took control of the practice, it was very clear from the very beginning that this was going to be a place where children would be helped onto health again, regardless of their insurance policy. We are in network with most providers, including medicaid and chip.


The practice is conveniently located
We're only a hop and a skip away from campus and downtown. We draw people from all corners of Austin and given where we are, it's no wonder.


Longhorn Pediatrics is a one-stop-shop
When your child becomes a patient of record, you can tap into all the services we offer under one roof. From newborn care to high school physicals, it's all here.
Billing Information
Payment for medical services can be made by credit card and is due at the time of service. It is the parent or guardian's responsibility to pay any deductible, co-pay or co-insurance required by the insurance provider. As a courtesy, our office will file claims with any of our Texas Children's Pedatrics-contracted insurance plans. Please bring your insurance card to every visit.
For more information about billing and payment practices, please view our financial policy/(En Español).
Texas Children's Pediatrics currently accepts the health insurance plans listed below. To be sure a specific location accepts your insurance or if you do not see your plan listed here, please call your Texas Children's Pediatrics location and ask for assistance. Though we try to keep this list as current as possible, we always are adding new insurance plans to better serve you.
Remember to check with your insurance plan provider to verify that Texas Children's Pediatrics is in your network. In addition, please contact your plan provider for questions about the specific procedures your plan covers.
Commercial Insurance Products
Aetna HMO
Aetna POS
Aetna PPO
BCBS BlueChoice PPO/EPO
BCBS Blue Essentials (formerly HMO Blue of Texas)
BCBS Par Plan
Choice Care Network PPO (Humana)
Cigna/GreatWest HMO
Cigna/GreatWest POS
Cigna/GreatWest PPO (including Cigna Local Plus and Cigna SureFit)
First Care Health Plans (a Baylor Scott & White Plan)
Scott & White Health Plan
First Health PPO (includes CCN and Coventry Health)
Galaxy Health Network PPO
Health Smart PPO (Health Payors now under the Health Smart network)
Humana - HMO
Humana - POS
Humana - PPO
Imagine Health PPO
Independent Medical Systems EPO/PPO
Memorial Hermann Health Plan PPO (Self Funded)
Memorial Hermann Health Plan Select PPO (Fully Insured)
Memorial Hermann Health Plan Edge PPO (MH Employees)
Molina Healthcare
MultiPlan - PHCS & Savility PPO
MultiPlan - Beech St. PPO
PacifiCare (UHC) HMO
PacifiCare (UHC) PPO
Premier Provider Network, Inc. PPO (NAPP & Family Care)
Tricare PPO / HMO
UHC (PacifiCare) Options PPO
UHC (PacifiCare) non PPO products
USA Managed Care Organization PPO
USFHP (US Family Health Plan)
Medicaid Products
Many, but not all, Texas Children's Pediatrics locations accept the following Medicaid products. Please call your Texas Children's Pediatrics location for more information.
Aetna Better Health of Texas

Star-Kids
Medicaid STAR
CHIP

Ameri-Health Carita

CHIP
Medicaid STAR
STAR Plus

Blue Cross and Blue Shield of Texas

CHIP
Medicaid STAR
STAR Kids
STAR Plus

CHIP - Texas Children's Health Plan
CHIP Perinate - Texas Children's Health Plan
Community First Health Plans

Star-Kids
Medicaid STAR
CHIP

First Care Health Plans (a Baylor Scott & White Plan)
Texas Medicaid

Star-Kids
Medicaid STAR
CHIP
CHIP Perinatal (applies to hospital only)

Medicaid Mgd Care - Community Health Choice STAR
Medicaid Mgd Care - Texas Children's Health Plan STAR
Medicaid Mgd Care - Texas Children's Health Plan STAR Kids
Medicaid Mgd Care - UnitedHealthcare Community STAR
Medicaid Mgd Care - UnitedHealthcare Community STAR+PLUS
Medicaid Mgd Care - UnitedHealthcare Community STAR Kids
Medicaid Mgd Care - Superior STARHealth-Foster Care
Medicaid Mgd Care-Children with Special Healthcare Needs (CSHCN)
Medicaid - Traditional - TMHP
Molina Healthcare

Star-Kids
Medicaid STAR
CHIP
Star-Plus
CHIP Perinatal
Marketplace – Out of Network

Right Care
Learn how to change your health plan for access to Texas Children's Pediatrics.
Recent Blog Posts
Schedule Appointment
---
Operating Hours
Monday - Friday
8:30 a.m. - 5 p.m.
---
Make an Appointment
For current patients, if you have a MyChart account, you may schedule sick visits and well check-up appointments directly.
Prescriptions
Prescription Information
Written or electronic prescriptions will be given after a patient has been seen by a physician or nurse practitioner.
Refills
For routine prescription refills, please contact your pharmacy. If your child has no refills available, please contact your child's Texas Children's Pediatrics practice.
Vaccine Recommendations
Texas Children's Pediatrics recommends the pediatric vaccine schedule approved by the AAP and CDC.